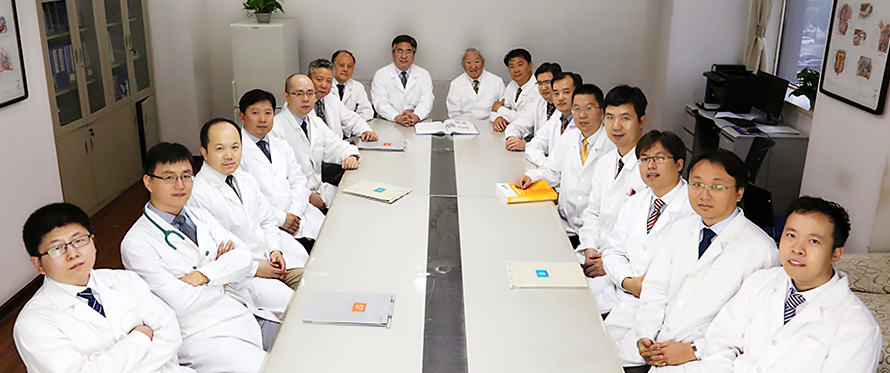 General Introductoin
The Department of Esophageal Cancer, Tianjin Medical University Cancer Institute and Hospital was established in 1999. It was the first esophageal oncology division established in a Chinese oncology hospital. It hosts the seat of the Chairman of the Division of Esophageal Cancer, The Chinese Anti-Cancer Association. In 2012, it was awarded the National Key Specialist Division of Thoracic Surgery by the Ministry of Health. The division has 80 beds and 16 professional and technical personnel, including 4 chief physicians and 6 deputy chief physicians. The proportion of patients from other regions is more than 60%. There are more than 7,000 patient visits, and more than 1,000 hospital inpatients per year. The division has completed more than 700 thoracic surgical procedures per year. The surgical resection rate is more than 98%.
The department undertook the teaching work for the national oncologist training classes and has trained hundreds of outstanding esophageal cancer professionals, which has played an important role in promoting the professional development of esophageal cancer work in China.
Research
The department focuses on the simultaneous development of clinical and scientific research. They have participated in writing 《Mediastinal surgery》, 《Mechanical thoracic tumor surgery》, 《Esophageal angioplasty》, 《Mediastinal oncology》 and other books. The department is undertaking three National Natural Science Foundation projects, two provincial and ministerial level projects, two lead clinical trial fund projects, and five domestic multi-center clinical research projects. At present, the department has published over 30 SCI papers and nearly 100 papers have been published in the Chinese core journals, and more than 30 doctoral and master students are mentored in this department.
Main Clinical Trials
1. CheckMate 577: A randomized, double-blind, phase 3 study of nivolumab (Nivo) or placebo in patients (Pts) with resected lower esophageal (E) or gastroesophageal junction (GEJ) cancer(NCT02743494)
2. Neoadjuvant Chemoradiotherapy VS. Neoadjuvant Chemotherapy followed by Minimally Invasive Esophagectomy for Locally Advanced Resectable Esophageal Squamous Cell Carcinoma(cT3-4aN0-1M0) :A Multi-center Prospective Randomized Clinical Trial (NCT03001596)
3. Ivor-Lewis resection versus left thoracic resection after neoadjuvant chemotherapy for gastroesophageal junction adenocarcinoma (cT1bN+, cT2-T4aN0-N+): A multi-center prospective randomized clinical trial (ChiCTR-IIR-17013113 )
4. A Phase III Trial Comparing Paclitaxel, Cisplatin Plus 5-FU (TCF) Versus Radiotherapy With Paclitaxel Plus Cisplatin (TC-RT) as Preoperative Therapy for Locally Advanced Esophageal Squamous Cancer (NCT03366883)
5. Multi-center Prospective Randomized Controlled Clinical Trial of Postoperative Adjuvant Chemotherapy, Adjuvant Radiotherapy, or Surgery Alone for High-risk Histological Node Negative Patients With Thoracic Esophageal Squamous Cell Carcinoma (NCT02891083)
6. A Phase III, Multicenter Randomized Controlled Study of Neo-adjuvant Chemotherapy Paclitaxel + Cisplatin Versus Surgery Alone for Stage IIA-IIIB Esophageal Squamous Cell Carcinoma(NCT02395705)
7. A phase III clinical trial of neoadjuvant chemoradiotherapy followed by surgery versus surgery alone for locally advanced squamous cell carcinoma of the esophagus (NEOCRTEC5010)
Main publishment in recent 3 years
1. Duan XF, Tang P, Shang XB, Jiang HJ, Yu ZT. Metastatic to negative lymph node ratio demonstrates significant prognostic value in patients with esophageal squamous cell carcinoma after esophagectomy[J]. Oncotarget. 2017, 8(49):86908-86916.
2. Ma Z#, Wu X#, Xu B, Jiang H, Tang P, Yue J, Ma M, Chen C, Zhang H, Yu Z*.Development of a novel biomarker model for predicting preoperative lymph node metastatic extent in esophageal squamous cell carcinoma1[J]. Oncotarget. 2017,8(62):105790-105799.
3. Qiao YF, Chen CG, Yue J, Ma MQ, Ma Z, Yu ZT*. Prognostic significance of preoperative and postoperative CK19 and CEA mRNA levels in peripheral blood of patients with gastric cardia cancer[J]. World J Gastroenterol. 2017, 23 (8):1424-1433.
4. Ma Z, Chen C, Tang P, Zhang H, Yue J, Yu Z*. BNIP3 induces apoptosis and protective autophagy under hypoxia in esophageal squamous cell carcinoma cell lines: BNIP3 regulates cell death[J]. Dis Esophagus. 2017; 30 (9):1-8.
5. Yang M, Zhang H, Ma Z, Gong L, Chen C, Ren P, Shang X, Tang P, Jiang H, Yu Z*. Log odds of positive lymph nodes is a novel prognostic indicator for advanced ESCC after surgical resection[J]. J Thorac Dis. 2017. May;9(5):1182-1189
6. Gong L, da Silva Caetano M, Cumpian AM, Daliri S, Garza Flores A, Chang SH, Ochoa CE, Evans CM, Yu Z, Moghaddam SJ. Tumor necrosis factor links chronic obstructive pulmonary disease and K-ras mutant lung cancer through induction of an immunosuppressive pro-tumor microenvironment[J].Oncoimmunology. 2016, 5(10):e1229724.
7. Zhang HD, Tang P, Miao XH, Gao YY, Shang XB, Gong L, Ma Z, Yang MJ, Jiang HJ, Zhan ZL, Meng B, Yu Z*. Does tumor size improve the accuracy of prognostic prediction in patients with esophageal squamous cell carcinoma after surgical resection[J]. Oncotarget.2016, 7(41):66623-34.
8. Zhang HD, Shang XB, Chen CG, Gao YY, Xiao XM, Tang P, Duan XF, Yang MJ, Jiang HJ, Yu Z*. Lymph node ratio-based staging system as an alternative to the current TNM staging system to assess outcome in adenocarcinoma of the esophagogastric junction after surgical resection[J]. Oncotarget. 2016, 7(45):74337-49.
Clinical Service
The Department of Esophageal Cancer has traditionally focused on esophageal, cardiac, lung, and mediastinal tumors, and has placed greater emphasis on standardization, individualization, and precision in the diagnosis and treatment of tumors, especially in the aspects of minimally invasive operation. Many new technologies, new concepts and other aspects of the diagnosis and treatment are in the international and domestic leading position. The department advocates right thoracic surgery for esophageal cancer. It paid attention to the removal of lymph nodes in the upper mediastinum, especially the left and right recurrent lymph nodes, and advocated three-field lymph node dissection. Our department performs thoracic and laparoscopic treatments for esophageal and cardiac cancers, achieving 80% of minimally invasive surgeries. The department took the lead in carrying out the standardized clinical diagnosis and treatment of esophageal cancer, and simultaneously carried out the MDT multidisciplinary treatment model for patient's individualization. The preoperative adjuvant therapy, minimally invasive surgery, and comprehensive treatment were combined to give greater emphasis to the treatment of esophageal cancer. Pay more attention to the radical and perioperative management of surgery, reducing the incidence of complications such as pulmonary infections, anastomotic leakage, and strive to prolong the survival of patients. In 2016, the world's latest Da Vinci robot was introduced for surgery. At present, the department has completed more than 300 cases of minimally invasive surgery for esophageal cancer per year.